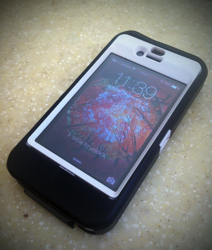 Ever have that sinking feeling that your phone is not in your pocket like it should be? It's not a fun feeling at all. They are expensive little buggers and we all depend on them a little too much in our day-to-day lives. Besides, it's a real pain to get one replaced, even if the cost was not a factor.
Tonight my fiancee's iPhone was stolen. She inadvertently left in on a shelf in the bathroom and 30 seconds later when she realized where she had left it, it was gone. I've done this before a couple of times, so I could understand why this might have happened.
We were out at VBGB in Charlotte with our friends Lane and Louanne, when Kate runs up to me with a concerned look on her face and says "Chris, my phone is gone." At first, I assumed it was just misplaced. The bar was crowded, noisy, and we had been enjoying some beers, so I asked her to double check all the places it might be. She had already checked the obvious places: her purse, around on the table, all her pockets, and where she had set it down in the bathroom. When she mentioned bathroom, something told me it had been stolen. It was just a hunch, but it proved to be correct later on. Once I verified that the obvious places had been checked, I set down the beer I had just poured, and headed for the front door to be able to see everyone leaving the bar. We share a free application called Find My Friends on our phones that lets us find each other using GPS at any time. I highly recommend installing it and connecting with a trustworthy friend, for the situation I'm describing here.
Before I walked off, I told Kate, "I will track down your phone tonight. It just may take bit." By the time I got to the front door, I had pulled up her phone's location using mine and knew that it was still in the general area, but could not get a close enough gps fix to see whether it was still at VBGB or if it was in the next building to the south, The Fillmore Music Hall. When the GPS resolution improved, it became more likely that the phone had moved out of VBGB and to the south of us somewhere in the NC Music Factory complex. I had not acted quickly enough to identify the thief as they left the bar, but I was going to narrow down where they might have gone. I locked her phone remotely and put it into "Lost Mode" so that it could not be used for any purpose other than me being able to track its whereabouts on planet Earth. The battery on her phone was less than 50%, so I worried that it might run out of juice before I was able to track it down. As luck would have it, the battery remained charged long enough for me to determine which building it had been taken into. I spent around 15 minutes walking around the NC Music Factory complex, ruling out places that the phone was not likely at, and in my search, honed in on the Fillmore Music Hall. Over the past four years living in Charlotte, I've been to Fillmore probably a dozen times for various shows, so I knew the layout inside fairly well.
Once I was 95% certain that the phone was inside, I started formulating a plan to get inside and identify the person with the phone. The problem was that there were tickets required to get into the show, and I did not have one. Sometimes just explaining your situation to the right person, and letting them how much of a help they could be to you is all that is necessary to get folks to bend the rules to help you out. I quickly explained the girl taking tickets that my Fiancee's phone had been stolen, and that the person had taken it inside Fillmore. She explained that she couldn't let me in without a ticket, but one of the other ticketing people had an extra, which she gave me. With gratis ticket in hand, I walked through the door, determined that I wasn't leaving without Kate's distinctive black & white & black iPhone 4. She previously had an all white Otter Box cover on her phone, and when the rubber portion of the cover started to fail, I gave her a black one I was no longer using. Instead of replacing the white plastic portion of the case, she kept it with the two mismatched tones since she thought the contrast looked good. Looked good? It looked great, since it made the phone distinctive and recognizable at a glance.
The band was an Eagles cover band playing "Take it Easy" when I stepped inside to the fairly large crowd. They weren't half bad, but I was here on business, so I started profiling the crowd for folks who might have stolen the phone close to a half hour ago. The GPS fix I had on her phone wasn't great, but would tell me what side of the building the phone was on and occasionally get a strong fix when the phone went outside on smoke break. The couple of times it popped up outside, I headed over to see if I could pick out anyone with that phone in their hand. I knew they might have it concealed, so when I got close to it, I would send a loud chime noise to the phone and try to hear it or see someone react to the noise of the stolen phone in their pocket or bag. There was one guy who didn't seem to be there for the music at all. He had a small bag on his shoulder that looked peculiar and for someone who did not smoke, he went out to the smoker's area a couple of times. He was also there by himself, which seemed slightly odd. Surely, I've gone to tons of concerts myself and thought nothing of it, but I think it's more common to go out to see live music with friends. He also seemed to stay just ahead of me as soon as he realized that I might be following him and he was moving progressively towards the door. I lost sight of him, but again stood at the door, the only exit from Fillmore. Five or ten minutes later, I see him exit the building and I follow him out. Before I confront him, I need to know that he's the guy, but I'm waiting on the GPS location to update to its current position. If it moves out of the building, I will have a high degree of certainty that the phone is on his person. Kate notices who I'm following and runs some clever interference. Her acting skills as "drunk girl that just won't get out of the way" kept him still long enough for me to confirm that I was wrong, and as weird as he was acting, he wasn't the person who had stolen the phone.
I wasn't having much luck when I was inside Fillmore, but knew that as soon as the phone left the building, I would see the "stolen phone dot" on my screen move, and could try to identify the thief. Though the location of the phone bounced around Fillmore for the next 15-20 minutes or so, it never left the building so I just stayed there watching the door. Then another kink in my plan came up. All my efforts to find the stolen phone had run the battery in my phone down to a critically low level. I decided the trade-off of going to the car and charging my phone made the most sense at the time. While it was charging, I had Kate call Verizon and report the phone stolen, then the police to open a report and request an officer to come out. I left a couple of friends watching the door while we went to the car for battery juice and once we got the reports filed with Verizon and the police, we went back to relieve Lane from "watching the door for folks leaving with stolen phones" duty. About the same time an ambulance arrives along with a fire truck. At some point Kate looks over at me and says, "wouldn't it be ironic if the person who stole my phone had a panic attack and had to leave in an ambulance." We both had a good chuckle about how ironic that would be and didn't' think of it again. I send Kate inside Fillmore to double-check with the barkeeps that her phone had not been turned in. While she's doing this, the phone starts to move. It's moving in a vehicle and faster than I can follow on foot and I don't have car keys. I'm stuck waiting for Kate (who clearly does not have a phone at this point) to return from inside Fillmore. As soon as I see her I grab the keys and run to the car.
Pulling out of the music factory on two wheels isn't exactly the smartest thing to do with a cop right across the street, but what can I say? I was on a mission. Luckily he either didn't notice me, or didn't think I was being reckless enough to stop me. I knew the phone had gotten on I–277 and then jumped on I-77 south, so I followed that route initially. As we drove along in pursuit of the stolen phone, I continued to verify the location as it changed and moved away from us. Eventually it settled on a spot and remained stationary for a couple of minutes. I wasn't sure exactly what was in this location, but I knew I was going to get there as fast as safely possible to find out.
As we get closer, what has happened hits us both at about the same time. The location is Charlotte's main hospital… The phone had left with the ambulance Kate had jokingly remarked about earlier because it was sitting in the Emergency Room at that very second. CMC-Mercy is a large hospital that I only know from a charity event I helped with last year so it took us a handful of minutes to find parking. It took a few more minutes to navigate to the emergency room area, but eventually we tracked it down. I noticed a security guard at the desk just inside the door, so I walk up to him and begin to explain the situation. While I'm doing this, Kate recognizes someone from VBGB further down the hall. I asked Kate if she saw her phone, and she thought she did. I pause my conversation with the security guard and start walking towards this individual. Like I mentioned earlier, Kate's phone & case is fairly distinctive and I see what I think is the phone in this person's hand. As I get near her I say "Nice phone, where'd you get it?" Before she can respond, I snatch it out of her hand and confirm it is indeed, Kate's phone. Her friend starts with this song and dance "Hey, how do we know that's your phone?" which Kate immediately squashes with "Hmm, well I just unlocked it." Her friend then proceeded to babble forth nonsense about how they were on their way to turn the phone into lost & found at the hospital.
SRSLY???!?111? The lady "found" the phone at VBGB, but didn't think it was important to turn it in to one of the barkeeps in case someone is looking for it. She takes the stolen property from this location to another location, and again, does not report it, attempt to look for its owner, or turn it in to the lost & found at Fillmore. She leaves the location and as soon as I take the phone our of her hand she has a sob story about how she was trying to do the right thing. Her friend yelling obscenities and having to be restrained by the Hospital security guard did not help her case that she was "just trying to do the right thing" Since I removed myself and Kate from the situation, it was not possible to get identification of the thief that night. We had the phone, it wasn't worth letting the lady's crazy friend escalate the situation to violence if it could be helped. We filed a police report and I'm going to go see the magistrate next week to get warrants issued, surveillance tape subpoenaed, security guards subpoenaed, and correlate hospital records of the person admitted with the license plate of the car the their left in to get a positive ID.
I'm glad my Dad – a detective for the Greensboro Police Department – taught me a few problem solving skills that allowed me to successfully return the phone to its rightful owner.
Persistence pays. If you let yourself become laser-focused on solving a problem, your chances of solving said problem increase significantly.
Keep a clear head, and use all resources available to you. Anger and fear will not help you in the heat of the moment, turn these off temporarily.
Be Confident. Act like you're supposed to be there and no one will question what you're doing.
So I can honestly say that I successfully tracked down the people who stole Kate's iPhone, snatched it out of their thieving hands, and sent them to the hospital. [Though I never touched the thief).
I'll keep you posted on how it goes in court. 🙂

Kate's side of the story is a fun read.