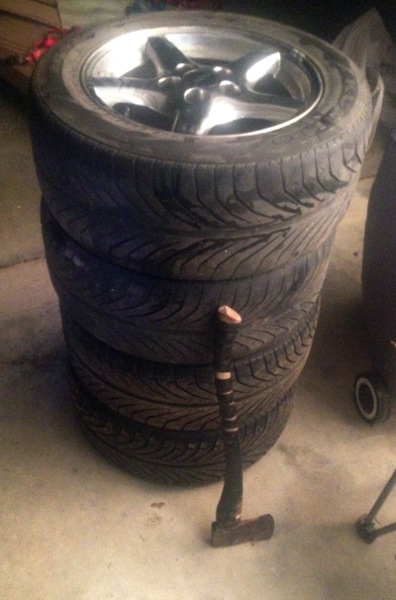 For the most part, I try not to force it when working on a problem. However, after trying everything I could think of, including kicking it the tire as hard a possible and subsequently a hammer and pry bar, I was making no headway on getting the rear tires removed from my car.
I decided it was time to take a break, pop open a cold beer, and consult my favorite tome of knowledge, the inter webs. After hearing recommendations to try all of the things I had already done, I tried the advice of Eric the car guy and "beat the crap out of the tire with the biggest hammer I could find."
[youtube https://www.youtube.com/watch?v=H7PWwrcGREM?t=4s&w=440&h=235]

I had been using a sledgehammer against the tire to no avail, but the leverage and weight of the blunt end of my fiancée's axe seemed capable of providing the necessary force. After an unfortunate mishap in which I fell backwards into a halfway-full oil pan and made a gigantic mess, the wheels finally came off with relative ease.
---
It is important to not use the biggest, heaviest, bluntest tool in the tool box as a first resort, but sometimes it is the only way to accomplish the task. After all, there is a minimum force necessary to break a connection that has fused in some way and the equation F = M * A is always true.
Removing the tires on my green car was a preliminary step taken before picking up an almost identical blue version of the same car for my Z28 conversion project. Stay tuned as I do a heart transplant on my 1994 Camaro.