First off, don't run the full length of Section 9 of the French Broad past Stackhouse when the river is low.  We ran it at 550 cf/s or probably less and we basically pulled the raft most of the way during this section.  You can do it, but it just isn't a good time.  Check the gauge at Marshall before you set out, as that will give you a good idea of where water levels are.  They're generally the best in the Spring, but rain can change things pretty quickly.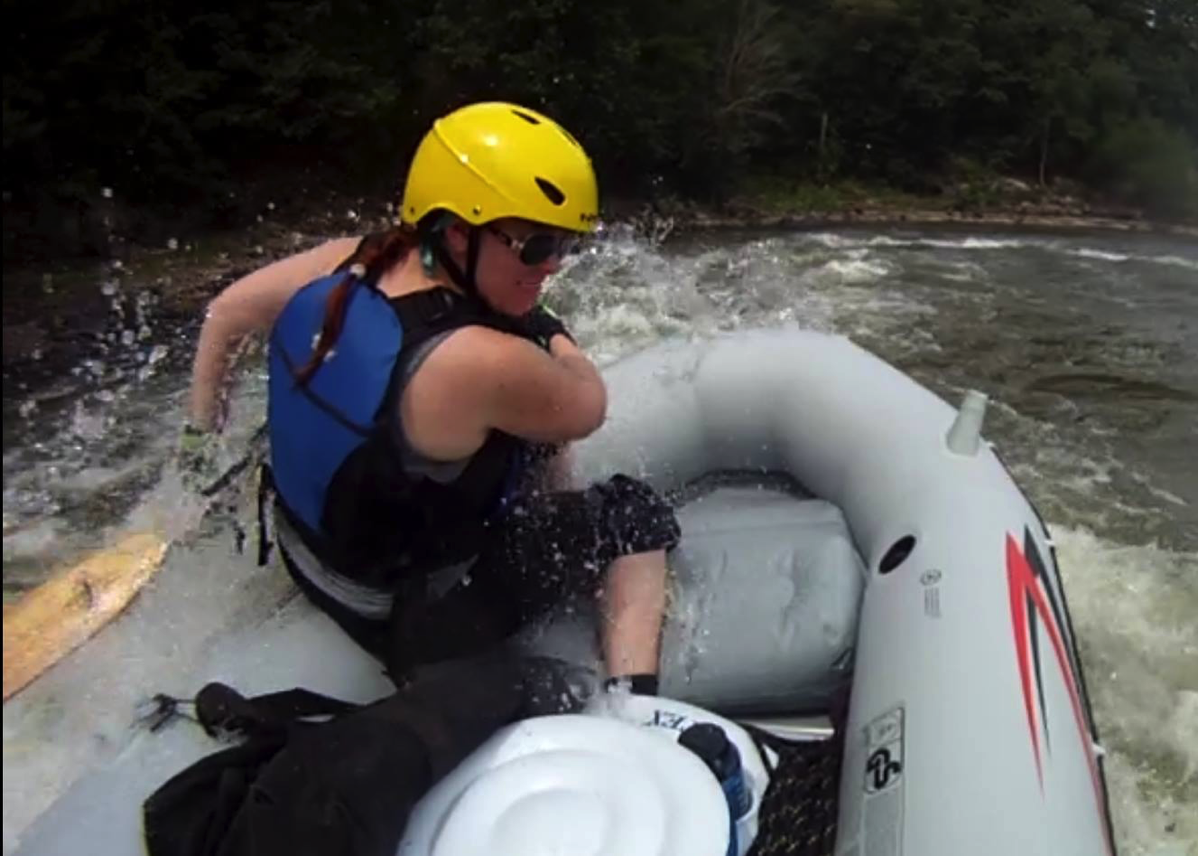 Getting There
Initially this was a pretty straightforward activity, until the moment before our shuttle left and we realized a critical blunder.  In our haste to get the shuttle vehicle loaded up, we forgot two critical things – paddles. I still can't believe we both forgot them, but next time my tried & true checklist method will be in place.  Luckily Dan, our shuttle driver from Bluff Mountain Outfitters, was kind enough to give Kate a ride back to the campsite to pick up our two paddles and our spare.  Perhaps she cleverly planned this all-along, because around the time she got back I had just finished inflating and prepping the boat, checking all our gear, and was ready to launch.
Kayakers' Ledge
Kayaker's ledge, we skirted on the left, since I don't have any interest in just tipping the raft stern over aft onto rocks for the sake of one 5′ drop.  I'm glad we took the route left of the island, as the rapids there were some of the best wave trains of the trip.  I'm hoping I got some good video of that part, but it seems Windows 10 doesn't ship with a video player installed  – really Microsoft? (see the finished video below)
Lunch
We stopped for lunch by tying ourselves to a dead tree in Windy Flats.  A footlong sammich tastes great after a long morning of rafting.  My wife was kind enough to pack us a six-pack of Yeungling, and our inflatable cooler kept them nice & cold.  A train passed by and by special request blew his whistle in the valley to a great resounding echo.  Thanks Mr. Engineer!
Frank Bells
Things got a bit sideways on Frank Bell's rapid.  Kate and I were both exhausted, and I was fiddling with the GoPro when I should have been setting us up for a proper path.  I also skipped a step and didn't scout the rapid before we went over it, and we ended up much more at the mercy of the river than I would have liked.  Let's face it, a Class IV or V rapid in a boat you can technically procure at your local Walmart is more intense than it is in a 12 person guided Cadillac raft.  That's part of the reason I do it, for the extra challenge of doing it myself rather than just being along for the ride.  It's our expedition that my fearless First Mate Kate and I planned, supplied, and executed ourselves.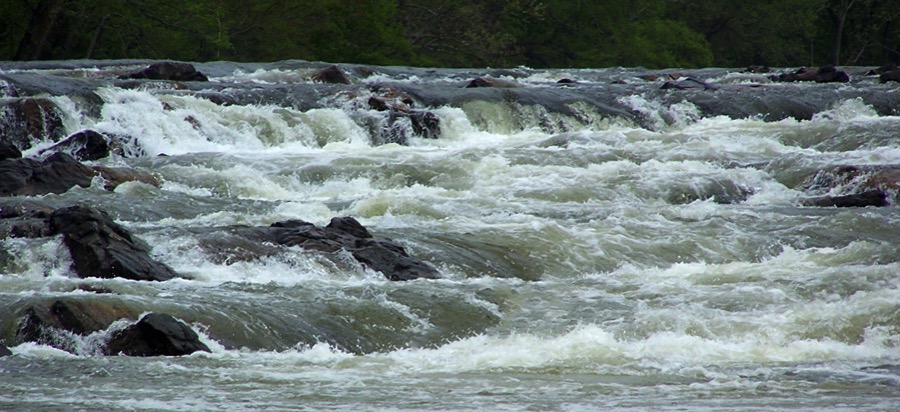 The water levels being crazy-low ended up causing us to get stuck on the ledge of a sideways 5-6′ drop among a series of drops at Frank Bell's. We missed the main flow at the left, which was totally my fault for a number of reasons, and the water is just too fast at that point to retrace.  So here we are, trying not to go directly over a dry rock and the strong current just wants to pound the boat into the rock.  A worst case scenario would have been for us to flip over the rock sideways and take the 5-6′ plunge to the rapids below.  The pool below wasn't very large, very deep, or where we would have likely landed.  I'm imagining the "discussion" we'll be having once we're out of harm's way that I will totally deserve, and trying as best I can to un-lodge the raft.  Since we were literally stuck between a rock and a hard place, we had to choose the least of two evils.  The route to the left was wide enough to fit our raft through, but at best we were going to hit it at an awful angle.  The route to the right was totally out, nope, not going to fit a raft.  In this fleeting moment of insanity, I stepped onto the rock, pushed the raft down the slightly less evil route and somehow was able to belly-flop back into the raft before it miraculously went over the drop more-or-less straight and upright.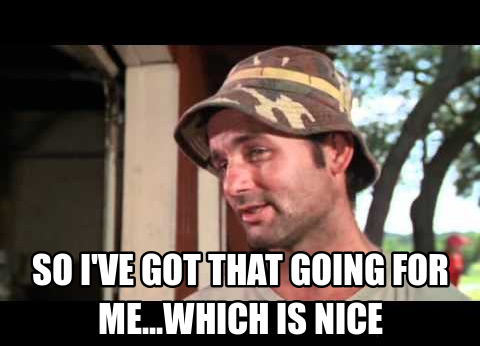 We're past the most dangerous portion, but we're not out of the woods yet.  Frank Bells always seems to be one set of follies setting you up for your next set of difficulties.  I look back over and Kate is giving me the best Grumpy Cat impression I've ever seen.  She's sitting in the front of the boat, which technically is now the back of the boat as the river flows, and she's sitting under the main flow of the small waterfall that we just passed through.  Again, we're stuck, albeit in a much safer place, but not able to move forward just yet.  Pushing off rocks with the paddles wasn't working for us, so I again stepped out to push us loose.  I barely made it back into the raft by way of another well-timed belly-flop, and had turned us around so that we were facing forward again for the next section of the rapid.  The rest of Frank Bells Rapid was a fantastic wave train that made good and sure the raft was full of water.  The river was surprisingly warm, so we had that going for us, which is nice.
Stackhouse
Just before all the corporate rafters got out at Stackhouse – their boats can't make the route from Stackhouse to Hot Springs when levels are low – One of the raft guides from French Broad Rafting makes this snide comment in our direction,
"Over there folks, you see what happens when you go to Walmart and try to do this."
~Elitist Cadillac raft guide
 This moron neglected to remember us helping get some of his rafters get unstuck from various rocks along the way. I had an answer for him when everyone in his group got out to go home for the day at the halfway point. 
"Onward! … To the Walmart!"
~Ballancio
 Oddly enough, almost nothing on our boat actually came from Walmart, but the raft is technically available there, though I think you have to order it from their website.  Again, the main reason I do this route in a small raft is quite deliberate.  On top of that, running this route again any time we want costs us nothing more than the cost of fuel to get us here, and not hundreds of dollars per raft ride.
How did the raft hold up?
When we turned the raft over back at camp, I was shocked at how well the bottom had held up.  This magical boat from Idaho is the Intex Mariner 4 that can be had for just under $250, with free shipping, from RubberBoats.com  The fact that it had a hard floor is something I'd never tried before, and was not necessarily sure that the added weight would be worth it.  It also has an inflatable keel that runs the length from aft to stern to keep the raft from bending in half when going over rapids. As we got toward the end, the water in the boat was causing my end of the floor to roll up and hitting rocks without it was definitely a less pleasant experience and more taxing on the bottom of the raft.  The 16 plastic slats it shipped with it were nice, but I had a hunch that they were heavier than treated 1″x4″s, which turned out to be right.  My miter saw, electric sander, and I had replaced the plastic slates with treated lumber night before we left for Hot Springs.  If you end up picking up one of these, I highly recommend the plastic-to-wood conversion, as it saved 155g per slat adding up to about 3.5kg (5lbs) saved overall. Aside from tools I already had, it cost around $25 for the 4 – 1″x4″x12′ treated boards needed to complete the job.
We're looking forward to soaking in the natural hot springs across the street this evening to relax and sooth all our aching parts.
---
Equipment list
Life Jacket x 2 (Sure you're a great swimmer, but how well do you swim after being knocked out by a rock?)
First aid kit (Don't let it get soaked like we did)
Cell phone in waterproof Pelican case
Helmets x 2 (Kate – NRS Havoc Livery / Chris – Black Diamond Half Dome)
GoPro with helmet mount
Knee pads (Walmart special – Kate & I shared a pack of knee and elbow pads since the elbow pads fit her knees after some custom velcro rigging)
Wooden paddle x 3 – one for each of us and a spare since I hear sometimes these fall out of the boat
Barrel pump to inflate initially and adjust once you're in the water – (hint, they shrink when they hit the cold water and will pop if you leave them out in the sun fully inflated)
50′ of 3/4″ braided rope
20′ of para cord (if it's not lashed down, it will end up in the river)
Potable H2O
Gatorade
Footlong Sub x 2
Multi-tool (for fixing various things)
Gloves (Kate used her leather & neoprene diving gloves)
River shoes (I prefer to just wear my Keens)
Parachute bag for supplies (super durable and available at most Army/Navy stores)
Sponge x 2 (for bailing water)
Banana bread (excellent breakfast food)
Suntan lotion
Hat (for Chris when relaxing on flat water)
Bandana (to keep Kate's hair out of her eyes)
Shuttle Info
Camping Info
Rafting Info