It's no surprise that the weather has been less than cooperative today in the Pacific Northwest. February is usually chilly and rainy. However, Summer is nice here and last year it was on a Thursday.
Portland was last night's destination after landing in Seattle and I found a great deal on a quality hotel. Hotel Deluxe is a steal at $125 a night and could easily rate as high as some $300 a night places I've stayed. It has a Golden Age of Hollywood motif that was renovated very well a few years ago. The plan was to take a quick nap once I got settled in and go foraging for some dinner and a good local brew afterwards. Double check that you've both checked your alarm AND not leave it on vibrate mode. When I finally woke at 1:30am, my mistake with the alarm became obvious.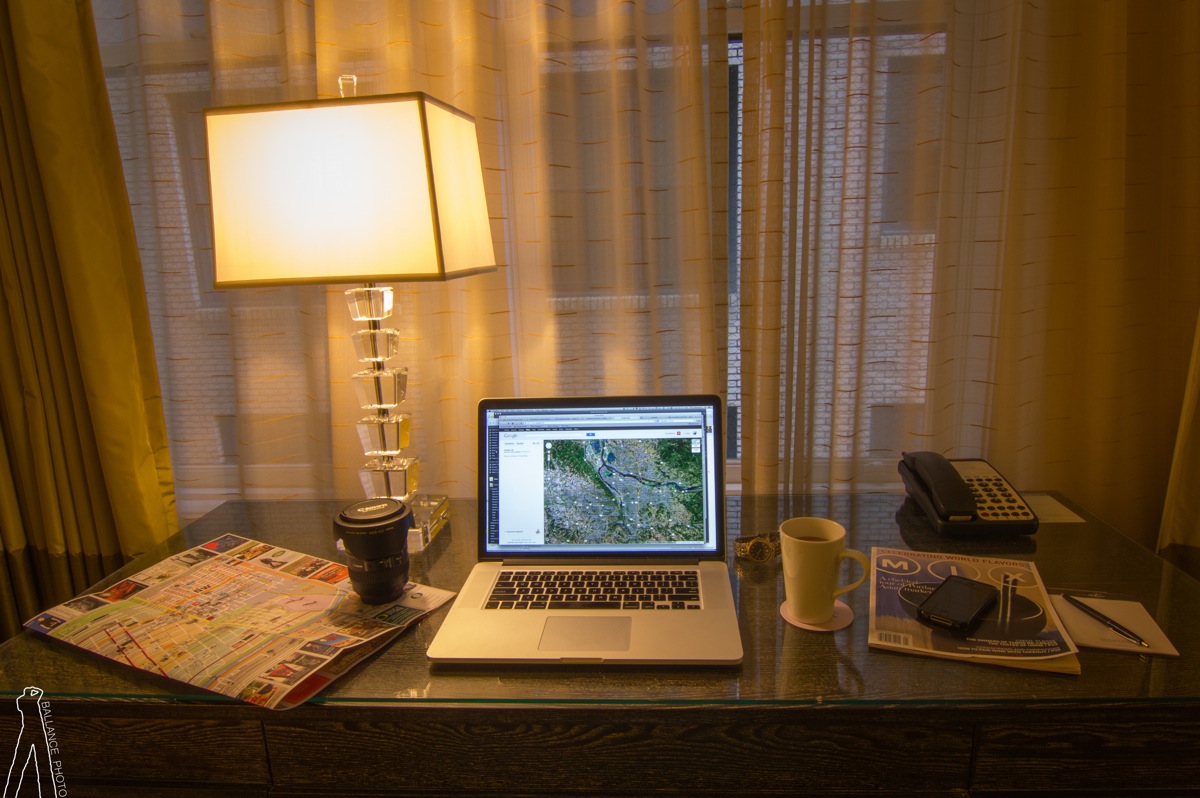 Planning the day
Oddly enough I was up and about pretty darn early for some walkabout, photos and breakfast. The rain was hit & miss so I didn't stay out too long before packing up and heading toward Cascade Locks. I did stop by Gracie's for breakfast and among other tasty items, discovered Sourdough Toast.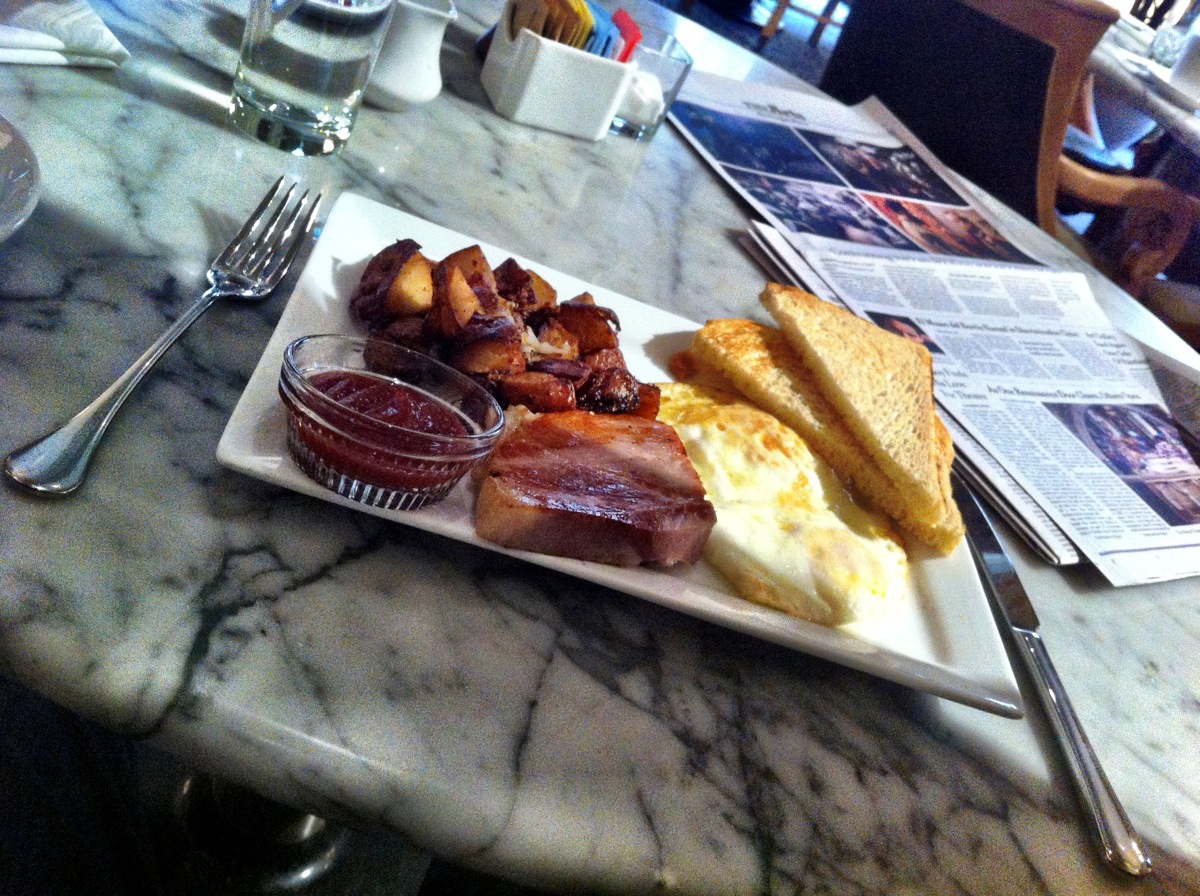 Breakfast at Gracie's
Walking around Portland I found a sculpture of a face that told me subtly that I was wrong.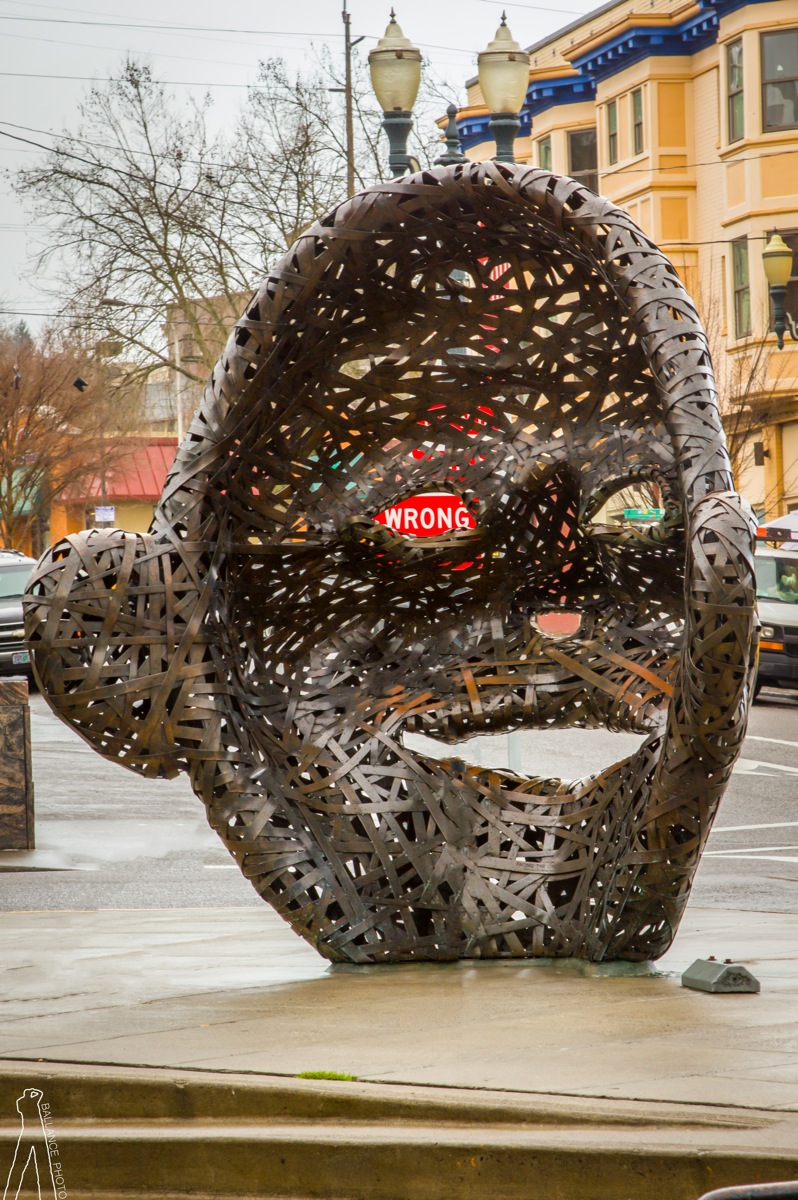 Since the weather was looking at least a little promising in the afternoon for some hiking, I jumped on I-84 and headed East.
My friend Karrie had recommended checking out Multnomah Falls along the way and I'm glad I did. The falls is tall enough at 620 feet high that I needed my wide angle 11-17mm lens just to fit it all in the frame from the overlook bridge. An interesting fact I learned is that on Labor Day in 1995 a 400 ton boulder, which was the size of a bus filled with concrete, fell from 225ft up and created a 70ft high tsunami of water and gravel that washed over the Benson Bridge. It just so happened that there were 20 members of a wedding party on the bridge at the time. I really hope someone captured a photo of that hilarity somewhere. This photo was taken from said Tsunami area on the Benson Bridge.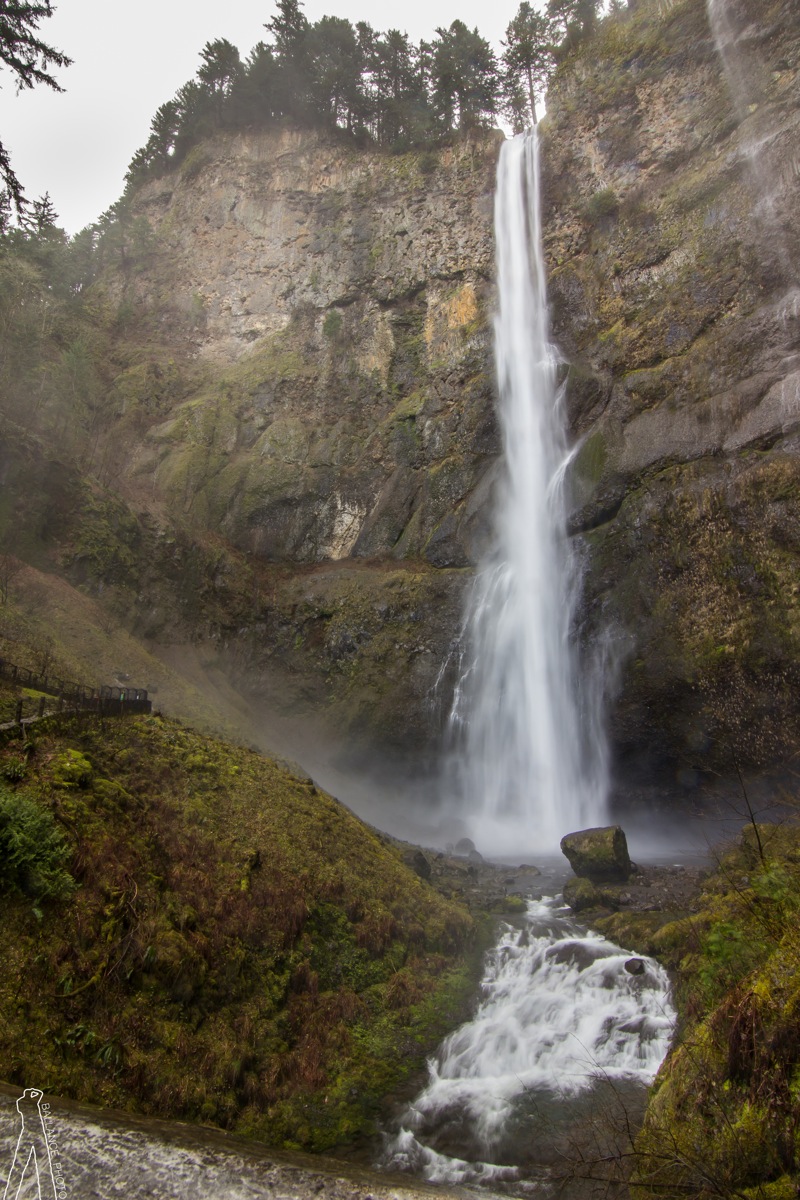 Multnomah Falls from the Benson Bridge
It would have been helpful if I had picked up this map BEFORE I ventured out today, but what's the fun in an adventure with a map in hand? Things turn out so "predictably" 🙂
So I ended up doing quite a bit of hiking and started kicking myself 2 miles in when my camera battery died and my spare wasn't charged like I had thought it was. Generally the battery on my T2i will last for a few hours, but when I'm composing using live-view the battery life plummets much more rapidly. The original plan was to hike to the top of the falls, but my tendency to never retrace my steps led me in another direction once I got to the top. If Jim Cantore from The Weather Channel had been along for the hike, he would have enjoyed the variety of weather the three hour hike had in store for me. Within a few minutes of each other there was sunshine, light rain, heavier rain, sleet, snow, and I think even some freezing rain. Since shoddy weather was expected, all my outer layers were waterproof. This proved crucial to my enjoyment of the day. Getting soaked through on the first half of a hike makes the second half miserable, especially if the temps are in the low 40's F and windy. Along the path I encountered some interesting hikers, including a couple that ditched their shoes and tried to wade across the river (Brrrr!) and a hiker from Portland with a 19 month old Pitt whose pup insisted on taking the most difficult route she could find.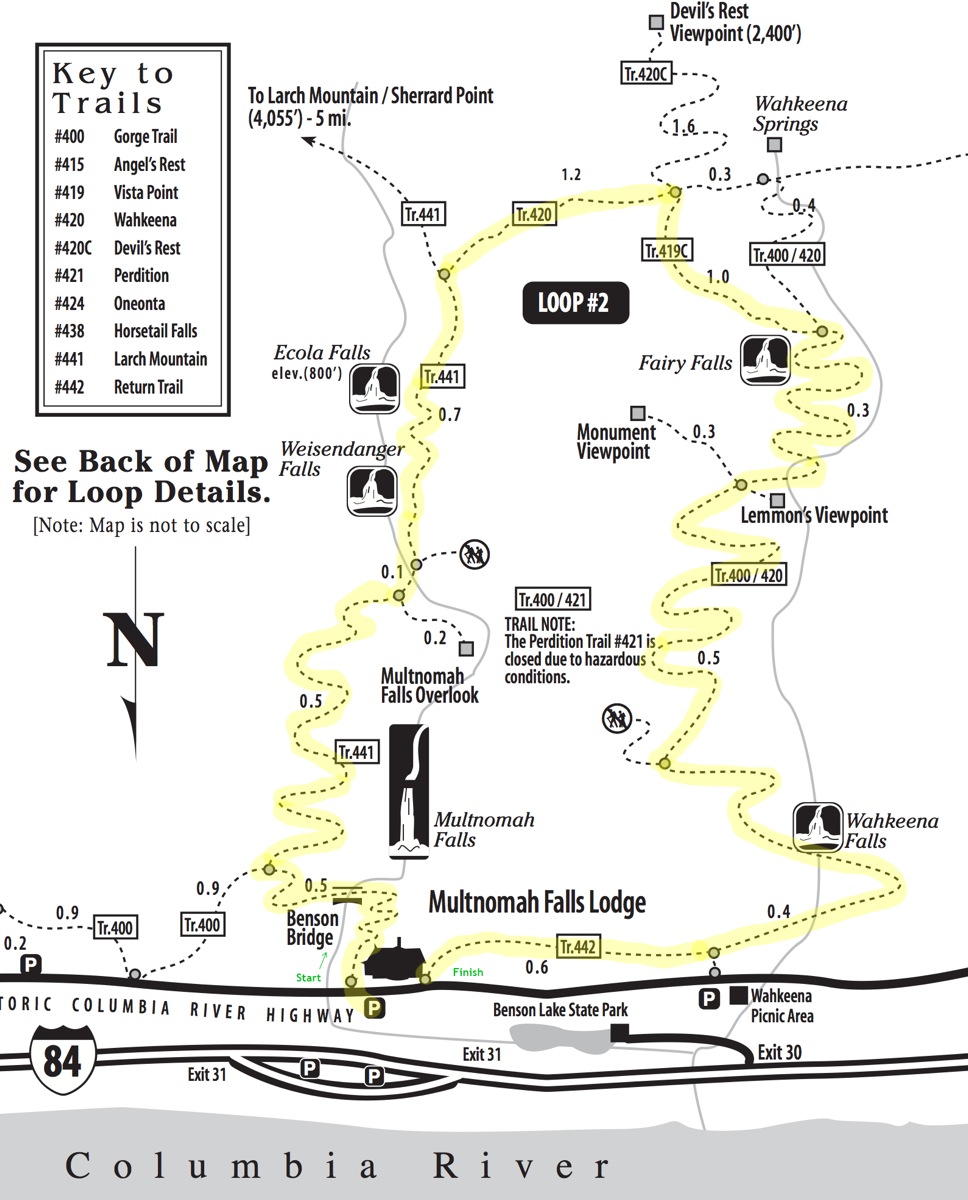 Today's Route
Here is a breakdown of each trail section I took.
Trail SectionDistance
| | |
| --- | --- |
| Benson Bridge | 0.5 |
| Trail #441 | 0.5 |
| Weisendanger Falls | 0.1 |
| Evola Falls | 0.7 |
| Trail #420 | 1.2 |
| Trail #419C | 1.0 |
| Fairy Falls | 0.3 |
| Trail #420/400 | 0.5 |
| Wahkeena Falls | 0.4 |
| Trail #442 | 0.6 |
| | |
| Total | 5.8 miles |
Back at the Multnomah Lodge I stopped for some lunch and enjoyed grilled Rainbow Trout and a well deserved "Local Logger."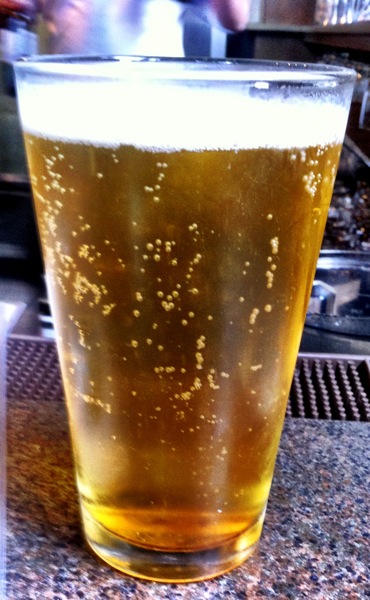 For now, I'm holed up for the night in Cascade Falls and thinking about venturing out for dinner before a foot and a half of snow falls tonight. I'm debating picking up tire chains… just in case.
Ballancio out!